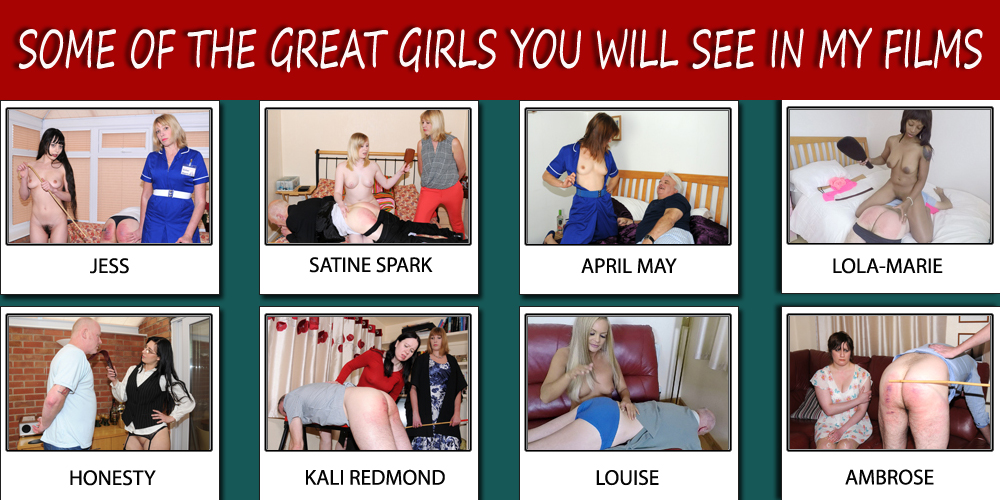 You asked for it and now you have it. Sarah Spanks Men and MUCH MORE. I can be a nasty lady and can be your dominant nemesis, an experienced disciplinarian, spanker and wielder of the cane, your boss lady, whatever you desire. See my amazing films of male discipline and punishment now. ALL MY NEW FILMS ARE IN FULL HD MP4 FORMAT
To see a free clip and download each film just click the instant download banner







Peter has been to see me before, the poor guy does have problems with self control and he looks to me to sort him out. Now those who know me will realise that I do specialise in one particular treatment, that which I administer with the aid of my senior cane. Peter agreed to take a course of treatment and so after removing his trousers he bent over my bench for a hard, long cold caning

Keith has been to see me previously about his habit of playing the horses as he calls it. The punishment I handed out then obviously did not work. This one will. I give this silly man one hell of a cold caning. When I have finished with his bottom he simply cant sit down, not even to drive home. These are the canes I used on him, none of them are very nice, not if you are bent over with me swiunging them at your bare bottom

This is a film made by and of Kodders. He asked if he could film a private session with me and with Aunty Katy. As Kodders is such a good friend I agreed and here is the film he made. Yes he took some real punishment with slipper, paddle hand and cane. I think he has made a rather good film so we hope you enjoy it.

Aunty Katie is back and looking for naughty men to spank and paddle. Her first victim just had to be the luckless Kodders, he just could not hold back and wanted to be the first to get bent over for a spanking from this lovely strict Aunty. She gave him just what he needed and he is now waiting on the next part of his punishment.

Henry has a new girlfriend and as is the way with Henry he finds himself in trouble. He has forgotten her birthday and not only that he was in the pub with his mates drinking and playing darts when he should have been with her. She contacted me and asked if I would punish him, well I was pleased to. I have a new instrument of pain, a nasty scratcher that is extremely painful when drawn over the bare back and bottom. Added to this a new rubber taws and I was all ready to inflict the deserved punishment.

Mike is back to see me for his maintenance program to help him with his weight loss. I have not seen him for over a year and unfortunately for him he has let things slip a bit. He has in fact put some more weight on. Now the punishments I have been giving him do not seem to have been working and so I have decided to try a very hard cold caning. I will take him right to his limits and see if this works.

Kodders is the math teacher at St. Justs and persuades a silly young sports mistress to paddle his bare bottom in the headmistresses office. She of course finds out and the consequences for both are to be very painful. Here we see the sports mistress giving Kodders a taste of the leather paddle and then the head giving him a ferocious caning. Will this silly man never learn that he will never get the better of his encounters with Sarah Stern.

Peter has been punished by me one for stealing some money and he was supposed to repay me but failed to do so. I am now going to punish him for not doing what he should. He will be getting a cold caning on his bare bottom with a very whippy and nasty cane which I donít get to use so much. I will really enjoy administering this punishment.

Kodders at lasts tells me what he has done with poor Parker my real butler. He is locked in the ironing cupboard. When we eventually get him out he is drunk on a bottle of my best scotch. He is going to need sobering up and I know exactly how to do that. My new cane has just arrived and I think I will try it out on his bare bottom. I will sort these battling butlers out.

I told Parker my butler not under any circumstances to let my old butler Kodders into the house. However whilst I was out with friends he did let Kodders in, I found him upon my return. There was no sign of parker and so I set about thrashing Kodders in order to make him tell me what had happened to Parker.

The one thing none of us like is someone who steals from us and particularly at our place of work. When the petty cash goes missing I have to take steps to find out who the thief is. It does not take me long and the punishment is swift and very painful. I have a special heavy wooden paddle I keep for the most serious offences and that is what I use on Peter's bar bottom.

I have given myself an honoree doctorate so that I may carry out some scientific evaluations on the new paddles provided by the faithful Kodders. These are rather nasty implements and I want to know which of these gives the most pain. I have a new victim and he agrees to be the subject bottom for me to try out these formidable implements on. He does not like either of them but which will get bottom marks?

This just has to be a dream and I can tell you it did not start off very well. I woke up to find myself over this guy's knees with him paddling my bottom. Now that just can't happen and I soon reversed the rolls and he paid a terrible price for intruding into my dreams. I have a nasty hew paddle and he soon felt how much pain it can give.

When it comes to very smart men they donít get any better than my butler Parker. He loves to serve me and he loves the pain he gets when he annoys me, in fact I think he behaves badly just so that I have to punish him. Today is just such a day and if you want to see him take a caning, one hell of a caning without making a sound, itís a silly game heís playing, then just look at this film.

How stupid some men are, Jim came along to see me and Aunty Lolani thinking he was going to spank us when in reality it was to be the other way round. Now after some discussion Lolani did allow him certain liberties but then it was going to get very painful for Jim. After a spanking from Lolani he had to take a good hard thrashing from both of us with our wooden spoons, these really do hurt believe me!

I have punished Ray for his late arrival for our spanking session and he thought it was all over, well it will be soon. Soon that is after I have caned his bare bottom, did her really think he would get away from me without getting his bottom thrashed with a selection of my favorite canes. He will soon learn, poor boy.

You know how much I love to use my canes on a naughty boys bottom but I do have some other implements I am quite expert with. I have a very nasty short riding whip especially made for me and a much longer carriage whip. I put these and my new canes to very good use on Poor Henry who has brought me a present of a very nice teddy bear hoping this will lessen his punishment, it wont of course.

When Robert came to see me for a second time he wanted a cold caning, well I am always willing to oblige my friends in this respect but I wanted to get even more fun. I made him sit on my spanking stool and then I slapped his inner thigh, very hard. Now this is extremely painful and it took Robert by surprise I can tell you. He had more of that to come before I got round to the hard cold caning.

I can put up with most things from the gentlemen I punish and discipline but the one thing that really does get me very cross is when they arrive late for an appointment. This is the mistake that Ray made on this his first visit to me and he was to pay heavily for it. He is a very nice friendly guy and I must admit, I did feel bad about the having to punish him so harshly. He was not expecting me to film his punishment, I was not expecting to but I thought it was just one more humiliation for him.

I have had to punish Henry many times, it seems he is a bit of a glutton for punishment but then, I don't really mind as he does bring me a nice box of chocolates and sometimes a new teddy bear. That does not mean that I will go easy on him, far from it. In this film you see him get a merciless cold caning and I do make sure he feels every stroke.

I just love it when I get a new bottom to cane, especially when the man asks me to cane him hard and it is his first taste of the cane. This is my favorite instrument of punishment and I am something of an expert, that's because I get so much practice I think. See how Robert suffered.

This fierce film sees me dealing with the mess caused by Henry. He dared to make me a present of a cheap and nasty sex doll, what did he think I would do with that? I have already thrashed his backside but now he is going to get it good. No mercy and no holding back with the caning.

The one thing I really do love is to give a cold caning. This is a caning given to the bare bottom without the benefit of there being a warm up spanking. It is one of the most painful ways of giving a caning and that is just what David came to see me for. There is no messing about here, just the cold caning and one very painful bottom

It's unusual that I see a spanking virgin who wants his very first spanking on video. Robert is a real nice guy but very nervous, he knows my reputation but decided that he would have his first spanking from me. I never mess about with my spankings, I told him it would be hard and boy was it. First over his blue jeans and then his pants but we soon got down to the bare bottom thrashing he needed.

I have had reason to punish James many times previously but this is to be the first time he has come to see me for a cold caning. I never insist that someone takes this fearsome punishment but if they should ask me to give them a caning without a warm up first I will do so. Poor James, I am not sure if he knew just what it would feel like to get this caning.

Kodders is posing as Mr. Stern and is caught with a bare bottomed lady over his knee. She had wanted to see Mr. Stern but Kodders thought he would have some fun with her bare bottom over his knee. He is caught in the act by me and as you will guess I soon sort him out, My cane and his bare bottom are soon talking to each other and my cane has the loudest voice, apart from when her cryís out in pain.

Nigel was supposed to be escorting me to the theater, I had carefully chosen my dress and was looking forward to the evening out. He however wants to slob around with a bear in his tee shirt watching a ball game on TV. No Way! I am going to give him just what for. The leather strap on his hands for starters and then he gets his pants down for a full leathering on his bare bottom.

Nigel has come along to help me try out two lovely new canes, it's his favourite passtime. I just love caning a bare bottom and so people are always treating me to different canes. I like to be able to see the effect of the canes and Nigel has offered to take a cold caning from both my new canes and then to tell me just how each one felt. A good hard cold caning should really concentrate his mind.

Kodders is a dear friend and is always bringing me little gifts, sometimes however I have to wander just how smart is he! When he came last week he had a lovely present for me, a very special paddle he had purchased from America, it is in fact made from extra hard bullet proof material. Now he should have realized I would be eager to try this out at once but he did not think. Thatís how he came to be bent over getting the paddling of his life. I have to tell you this paddle is unbreakable, I tried really hard.

A cold caning is one where the recipients bottom is not warmed up with a spanking prior to the caning starting and is extremely painful. In this new film you have me administering a very hard cold caning to Parker for his birthday present. This is an extremely hard caning and he takes in excess of 75 of my hardest cane strokes. A film for the enthusiast of canings.

Lola is employed as a maid at Unladylike Manor but she is up to no good. She is a prostitute and unbeknown to Lord and Lady Stern she is entertaining clients in their home. Her activities are discovered and Lady Stern believes the story she tells about her customer being a burglar! I Ask you, would you believe it? Anyway, this gives lady Stern, thatís me, a chance to join in and they both give the unlucky Bob the burglar a good hard beating and other rather nasty treatments. He has a painful bottom, cock and nipples by the time he is kicked out. The full Unladylike Manor series can be seen at http://www.spankingsarah.com

Kevin has been messing around with his nurse and she has been doing things no nurse should including spanking his bottom. Unfortunately for both of them this behavior has been discovered and now Kevin is in for some real punishment. A couple of long supple birch rods are employed to mark his bottom and make lazing in bed impossible.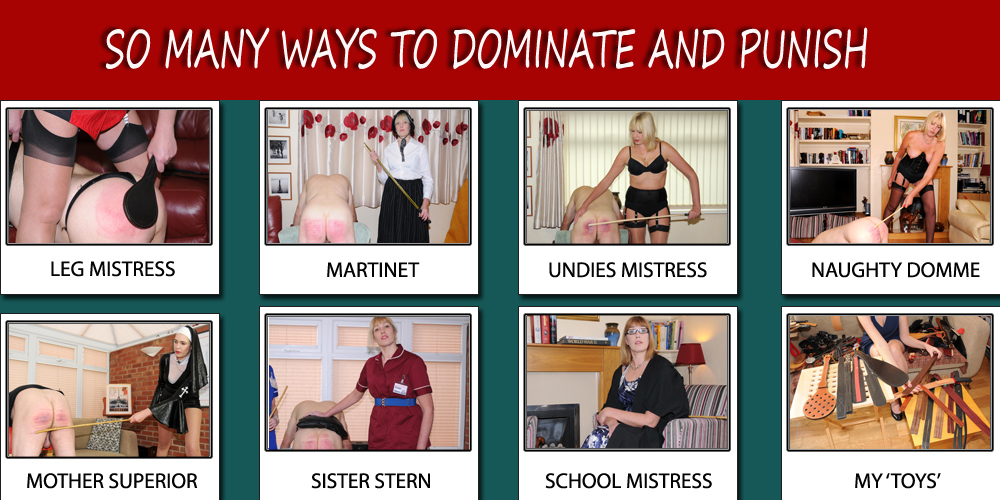 Kodders has been to see the sexy escort Lola Marie but did not have a lot of luck with her. He now returns taking some implements he wants her to beat him with. Lola takes his money and is more than happy to oblige. She gives him a mixed session starting with the strap and then the paddle. She then uses an extra-large paddle to good effect before taking off all her clothes and sitting astride the lucky guy to carry on dishing out the punishment. Good hard punishment and very sexy activity from Lola.

While I am away from home Paul decides to hire a young lady to come and spank him. She is new to the game and just does not know what she is doing and so when I discover them in full swing I am determined to teach them both a lesson. I get him over my knee and then thrash him with a thick wooden ruler, this really does hurt his tender bottom but worse is to come as I use the girls cane on him. This is one of my very hardest films so be warned for loads of hard spanking action.

Jess is babysitting for me and I find my pathetic husband in the sitting room groping her. I am not amused when he tells me she is shagging my friends husband. I am going to give her what for! I get my paddle and lay into her bare bottom then I cane her. I then learn the truth, he tried to seduce Jess, OK time to thrash him and who better than a naked Jess. She has never caned a man before but she soon learns and lays into this pathetic specimen like she hates him..

Sarah and Satine have been having a sexy spanking and paddling session in their bedroom. They do not realise that their landlord had let himself into the flat and has been perving. When he is discovered retribution is fast and painful. Sarah takes this opportunity to teach young Satine how to spank and hairbrush a grown mans bare bottom. She soon gets into it and between them they give this perv a real hard whacking.

The story starts on spankingsarah.com, nurse Jess lets the porter, who is pretending to be a doctor, paddle her and strip her naked. He now has to pay the price. Sister Stern orders a naked Jess to join her in caning the hapless porter and boy does he get a real hard caning from the two of them. A well marked bottom is his reward for the deception. This is another Hand Made Film

Nathan has now felt just how hard I can deliver a well deserved punishment and so when I tell him it's time to move onto the cane he is not quite so happy. Maybe he did not think i would go through with it, big mistake! He has to bend over for a real hard swishing with a couple of my canes. I think it may be a while before he plays silly games again with me.

Everyone has 50 shades of something so here is my far more believable contribution. Nathan, playing my husband tells me he is going to play golf. The truth is far more bizarre and the result is that Nathan is in for a rather long punishment session. You will see the result of my hard hand and then the application of a couple of my heavier paddles. He ended this part of the film with a very red bottom. Please excuse the smiles on our faces, we had so much fun making this film!

Parker has reported to the governess and he knows he must be birched. No mercy will be shown and he expects to receive none. Naked he has to lay over the punishment stool as I prepare the birches, freshly gathered that morning by Parker. He waits for that first terrible slash of this natural instrument of justice and punishment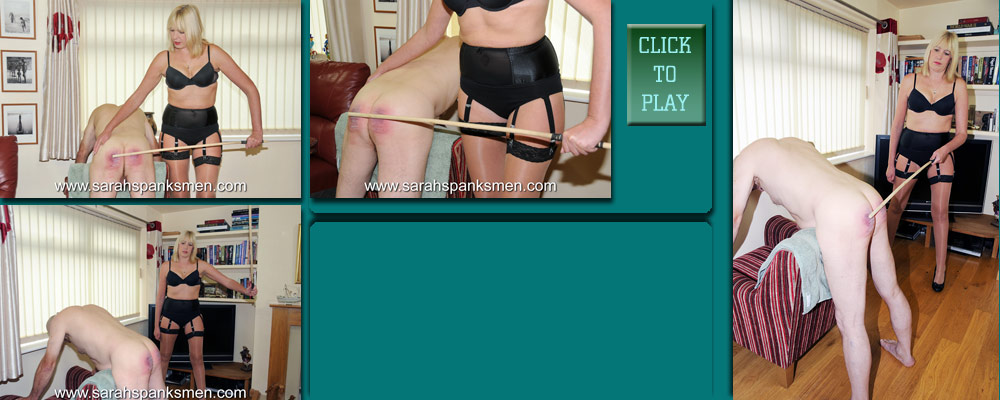 PARKERS BIRTHDAY CANING
Parker always has a caning on his birthday and this year for the first time he came to see me. What he required was quite simple, a cold caning giving him the number of strokes to match his age. No problems. He brought along his own cane, a wicked full weight Singapore monster of a cane that I knew would hurt dreadfully but that's what he wanted and that is exactly what he received.