You asked for it and now you have it. Sarah Spanks Men and MUCH MORE. I can be a nasty lady and can be your dominant nemesis, an experienced disciplinarian, spanker and wielder of the cane, your boss lady, whatever you desire. See my amazing films of male discipline and punishment now. ALL MY NEW FILMS ARE IN FULL HD MP4 FORMAT
To see a free clip and download each film just click the instant download banner








As you may know, I have known Henry since schooldays and when I was very young he broke my best doll. Well he has been punished for that but he did say he would buy me a new one. I was so pleased when he turned up and said he had a new dolly for me that is until a saw it! Both me and my friend, Luna could not believe our eyes, a nasty sex doll. Well that was it, I set about his bottom with the aid of Luna and we soon had him howling like a baby.


This film is part of a film shot for my other site Spanking Sarah. It is about St. Justs Academy and the new rule changes I have introduced. The parents, not the students will be punished and that is how this unlucky couple came to be in front of the headmistress. Here I am showing you the punishment of the ex-husband of Mrs. Redmond it starts with a strapping but ends with a severe caning. You will be able to see the punishment of his wife at Spanking Sarah but I will put a free screening of some of this in my members area here.

Poor Henry, no sooner have I tried out my collection of slippers on his bare bottom than I tell him I want to get some caning practice in and that his bottom will be the chosen target. He cant argue with me, he wouldnít dare or it will just get worse. How much worse it could be you will have to guess after watching his caning

It seems that I am always having to discipline young Kodders but he just will not learn. I was supposed to be having an evening out with Mr. Stern but while we were out shopping Kodders ran into my legs with the supermarket trolley and left me badly bruised. Now I intend to give him some nasty bruises with the aid of my selection of very stingy nasty slippers. I am going to thrash his bare bottom till he canít sit down and make him a very sorry man.

Henry has been to see a disciplinarian on an earlier occasion but I do not believe she was strict enough with him, the punishment he received did him no good whatsoever. I intend to remedy that. I get a selection of paddles and other instruments and taking it in turns I use them all on his bottom. Leather paddles large and small, a slipper paddle and a very nasty loopy. He now knows what a real punishment feels like.

Daryl has been to see me previously, his wife needed to have his behavior improved. The treatment and punishment I gave him did work but she now considers he is in need of some maintenance. I have a good talk with him and he agrees he does need to come back into line. I get a selection of slippers I keep for just such occasions and use them all on his bare bottom.

Nigel has come along to help me try out two lovely new canes, it's his favourite passtime. I just love caning a bare bottom and so people are always treating me to different canes. I like to be able to see the effect of the canes and Nigel has offered to take a cold caning from both my new canes and then to tell me just how each one felt. A good hard cold caning should really concentrate his mind.

Kodders is a dear friend and is always bringing me little gifts, sometimes however I have to wander just how smart is he! When he came last week he had a lovely present for me, a very special paddle he had purchased from America, it is in fact made from extra hard bullet proof material. Now he should have realized I would be eager to try this out at once but he did not think. Thatís how he came to be bent over getting the paddling of his life. I have to tell you this paddle is unbreakable, I tried really hard.

A cold caning is one where the recipients bottom is not warmed up with a spanking prior to the caning starting and is extremely painful. In this new film you have me administering a very hard cold caning to Parker for his birthday present. This is an extremely hard caning and he takes in excess of 75 of my hardest cane strokes. A film for the enthusiast of canings.

Sometimes I do have to keep my very good friend in order, he has a habit of stepping out of line and doing things his own way and not the way I tell him to. This I find is an annoying trait of most men and needs to be beaten out of them. I have warned Kodders on a number of occasions but now it is time to take very stern measures. I go to his house and inform him he is to be given a cold caning. Thatís it, as many strokes of my hardest cane as I see fit. Watch as his bottom gets well beaten and marked.


In this start to a new series I will be punishing husbands on behalf of their wives who have a problem with dishing it out for themselves. I have no such qualms! Daryl is my first badly behaved husband and it does not take me long to extract from him full details of his transgressions. I start his punishment with an over the knee spanking but then soon move onto a y leather paddle to drive home a message to him

Nigel is going to be my subject as I try out a new cane. I have a huge collection but I do like to know just what each and every one of them feels like. Nigel has in his time experienced quite a few canings but I intend that my new cane will make a real impression on him. I use this new one and to give him something to compare it with I chose one of my old faithful canes that is a real stinger. Let the fun begin! Well for me, but for him a whole lot of pain.

George the builder thought he had got away with just a session of being paddled by Lola but he is very much mistaken. I am the expert when it comes to sorting out badly behaved men as he is now about to find out. I select a particularly heavy cane to administer the punishment to his bare bottom. I do not think this was appreciated one little bit as the strokes bite home.

Timothy is back to see me and so soon after I had to give him a severe beating for stealing money from his family. It seems he has not learnt his lesson and I now have to make this punishment that much harder. I waste absolutely no time, itís trousers down, over my kitchen table then a good paddling with my heavy paddle before going straight onto a severe caning. Will this cure him?

Lola has given both Mike & George a very effective paddling but I am not satisfied. I canít have men taking advantage of any of my girlfriends, not even if the silly girl was to blame. I will only be happy when these two builders have been really punished and thatís something I will take on myself. I select two canes, one thin and whippy the other thick and thuddy and I soon have Mike whimpering like a girl.

This is a long story, Lola Marie tried to do my builders out of some money, she offered sex instead but it all went wrong and they ended up beating her and spanking her. I caught them at it and then I caned Lola. In this story you get to see the revenge I let Lola extract from these two builders who had taken advantage of this poor innocent girl. I let her use two different paddles on their bottoms till I felt they were sorry for their actions.

My painters are learning the hard way not to mess with my private things, they found my spanking toy bag and now the consequences are proving to be very painful. I get a strap and a paddle and warm them up after they tried to run out of my house. When I have had my fun a make them bend over for as harder caning as I can give them. They are not laughing by the time I have finished with their bottoms

The most despicable thing a man can do in my book is to steel from his own family, well that is just what Timothy has done. I have already started his punishment with a good hard slippering over my knees but now he is going to get something he is dreading. The cane delivered full force by me onto his bare bottom. This will make him squirm and to be not a little sorry for himself.

When I have the decorators in my house I do not expect them to go searching through my private things, this pair have done and must now face the consequences. Paul & Kodders are too cheeky and will suffer for it. As they found my punishment toys I will demonstrate to them just how hard they can be applied to naughty menís bare bottoms. I am in command as I make them bend over and take a hard beating side by side.

Timothy really is old enough to know better than to mess around with me or my friends. He has however been caught red handed trying to steal some money from one of them and now I am going to give him a very red bottom. He protests his innocence but I will not listen to lies and so he has to remove his trousers and get over my knee for a spanking and a dose of my slipper

I have set Kodders the task of ironing my party dress, I have a great evening planed with my girlfriends but I find that he has started ironing one of my husbandís shirts. To say I am annoyed is putting it mildly and so he knows he is really for it this time. No messing or warm up here, I get the heaviest wooden paddle I can find and whack him till he canít sit down and then before he can recover out comes my weighted cane and he gets more stripes with that.
I had invited a couple of my girlfriends round for lunch and silly me I wanted to impress them by telling them I had a professional chef in my kitchen. I had reckoned without Kodders, for it was he, ability to mess everything up. And he did. He ate all the soup! I decided that he was going to get punished there and then and my wooden spoon was the ideal instrument to give him maximum pain on his hands and bare bottom. See this fool squirm as I give him just what he deserved

Mike is a hopeless case, I have just come to that conclusion. I have a weight loss plan worked out for him but he will not stick to it. This means that every time he comes to see me for a weight check I have to issue him with harder and harder punishments and I am running out of ways to deal with him. Today he is going to get a beating with a wide selection of toys from my bag. A thin whip. A nasty cane and my most formidable leather paddles. See if these help.

Nigel has been to see me before but he is back and this time he is more honest with me about this needs. He wants to be cold caned. Now this is extremely unpleasant and very painful but that is what he wants, I agree to cane him. We pick a selection of canes, from very thin to quite heavy and I give him just what he asked for as he bends over my caning bench

Satine is a very nasty and dominant young lady. Do not be fooled by those innocent eyes and that smiling face. She knows just how to get what she wants from a man and she does not mind how she goes about it. She dresses very provocatively and then she makes her demands of you. Will you be able to resist?

The pain of Louis continues as he now has to take a hard punishment caning from me. Those who know me understand that fidelity is one of those things I prize above others and he has overstepped the mark in looking for a new mistress. I am going to show him who is boss. I make him bend over the kitchen table and there I cane his bare bottom until I know the poor man cant take anymore. Then I give him some extra just because I can.

This is a story about a henpecked husband who tried to play outside his marriage. Thinking his wife was away he arranged to see another mistress at his house. He was preparing food for her when his wife returned. Not best pleased she set about his bare bottom with a vengeance. First spanking it till he could not sit down and then using the weighted leather paddle he had gotten ready for his new mistress to use. This is a true story, Louise has been ordered by his wife to re-enact it here for you.

I have had loads of requests to do another POV film and so I have tried to do something a little different with a real live situation. Williamís wife really did write to me and order the punishment spanking for him. In this film you will see me telling him off, reading his wifeís letter to me and then the view a she goes over my knee and gets spanked. Imagine this was you. Take a look in the POV section of my members area.

Nigel has been heavily paddled for confessing to certain misdemeanors but now the truth emerges. The real reason for his visit to me was just to get punished. Silly boy, if he had just come out and said that I would have been more than happy to punish his bottom all day. His lying has made me rather annoyed and so I am afraid to say that when I had him bent over my punishment stool I did cane his bottom rather harder than he wanted, but, he should not tell me lies should he?

This is the next part of the weight control program I worked out for mike, I use a number of implements on his bottom but I am not sure if anything will work with him, he does like his food and what's wrong with that I say? Nothing as long as you can take the punishment that comes with being overweight.

Nigel came to see me just after Christmas and after some prevarication came out with it and told me what he had done. Now it was something pretty stupid but I realized that there was more to it than just this incident. He had quite a lot of things on his conscience and really needed to confess these things to someone who would listen and then punish him an the required manner. He has chosen the right person for that. I decided that for the first part of his punishment he should be spanked and then feel the weight of my ceramic backed wooden hairbrush. This really does sting and he was soon squirming.

Mike has been seeing me as part of his weight control program but unfortunately he has not been keeping up with his diet regime. I discuss this with him and inform him that I have a three stage program in store for him and it will contain various elements of pain being administered to his bare bottom. Luckily he understands that he needs this and agrees to start at once.

Kodders knows well my bad temper and my penchant for punishing him extra hard and in the most sensitive parts. His behavior seriously embarrassed me and now he will pay the price. I bend him over my spanking bench and get a couple of new canes. The first one breaks on him because of the force, good job I have another to complete this hard caning.

You will see from my earlier films that I have had to punish Mark for too much self-abuse, he never seems to learn. At least he is honest, he has come back to see me as he has not been able to stop completely and he knows that he should. There is nothing for it, it has to be a cold caning. This is something her fears but reluctantly agrees he needs. I give it to him and I do not spare the rod. I am a great believer in the power of pain.

This is the second part of my very strict punishment of Kodders for making inappropriate artwork for my web site. In this I use a variety of implements on him and there is not a bit of his body that does not suffer the pain I can inflict when I am displeased. Straps, paddle, loopies, all are here and Kodders has to feel the pain.

Kodders is well known for the spank art he produces for my web site. BUT he has stepped out of line with his latest offering and I am taking him to task about it. He tries to defend what he has done but I will not accept his moaning excuses and intend to punish him hard. Over my knee I soon have his bottom a nice shade of red but I have only just started on him.

Sarah is always equipped to punish badly behaved men or those who just need to be spanked, paddled or caned. From her vast collection of toys she shows us just some of them and a sample of just what they can do to a deserving male bottom. These toys are not for beginners, these are real instruments of pain.

James is now to undergo the second part of the discipline session as requested by his wife. He is already well marked from the two different but equally nasty paddles I used on his bottom. He now realises that size does matter and that it is not only the largest that can cause the pain. I am now going to prove that to him one more time as I cane him with my very smallest cane. I happen to know though that this cane has a particularly nasty sting as James will find out.

James is sent to see me and because he has been sent by his wife I know exactly what he has been up to and the severity of the discipline and punishment that his wife expects me to administer to him. For James it is going to be a bad day, I have just acquired two new paddles and I am eager to try them out. His bare bottom will make a perfect target for the small but thick oak paddle and the ferocious thick larger one. I beat his bottom till he really canít sit down, then I send a picture to his wife, she is delighted with this but will she be satisfied or will she demand more.

Terry has got to be the worst plumber in the world and I have just given him what I thought was quite a severe punishment. He seemed to think it was all a big joke and did not take me seriously/ He just has to be taught a lesson he will not forget in a hurry. When I produce my cane he is not quite so sure of himself but being a big strong man he has to bend over. I really did whack his bare bottom I can tell you. He did not think it funny when he left my house later that day.


Lola is employed as a maid at Unladylike Manor but she is up to no good. She is a prostitute and unbeknown to Lord and Lady Stern she is entertaining clients in their home. Her activities are discovered and Lady Stern believes the story she tells about her customer being a burglar! I Ask you, would you believe it? Anyway, this gives lady Stern, thatís me, a chance to join in and they both give the unlucky Bob the burglar a good hard beating and other rather nasty treatments. He has a painful bottom, cock and nipples by the time he is kicked out. The full Unladylike Manor series can be seen at http://www.spankingsarah.com

Terry the plumber has tried to fix my heating system but he has not had a lot of success. I think he needs some retraining and as you know that is just what I am best at. I do not give him any choice in the matter. Over my knee he goes and the spanking starts. Terry is a big strong working man so he needs a strong arm to beat him, with the help of my ceramic backed wooden hairbrush I intend to teach his naughty bottom a lesson that he will not forget.

Kevin has been messing around with his nurse and she has been doing things no nurse should including spanking his bottom. Unfortunately for both of them this behavior has been discovered and now Kevin is in for some real punishment. A couple of long supple birch rods are employed to mark his bottom and make lazing in bed impossible.

I have punished Mark with one of my nastiest panels in an effort to stop him wanking but I feel that it just has not been sufficient to drive home the message. We have a discussion and I tell him that as he came to me for therapy I canít allow him to leave with his craving still as strong as ever. I do believe in aversion therapy backed up by extreme pain and that is just what I inflict on his bare bottom with a heavy senior cane

April is quite new to home nursing and thinks it is part of her duty to entertain her patients in any way they wish. Kev is a real dirty minded perv and persuades April to bring him in strong drink and to entertain him by getting her tits out and spanking and paddling his bottom. She may be new to all this but she certainly lays the paddle on his bottom giving dirty Kev all he could wish for. As you will find out, there are consequences to this behavior.

Frank came to see me as he wanted to see if he still had what it takes to submit to a good paddling and caning. Hmm, just my kind of guy, someone who really wants it and also needs to have it. I started him off with my new extra size paddle, this is made from thick leather and really does pack a punch. He took this quite well I thought and then he wanted me to cane him. I was not too sure if he could take this but he asked me so nicely and also told me not to hold back with my swings. He got everything he wanted and more besides I can tell you.


Mark Anthony came to see me with a very personal problem, he can't stop wanking, sometimes he is abusing himself four times a day and he finds it interferes with his work. He wants to try my pain aversion therapy. I agree it may help him so he has to bend over for a painful spanking and paddling on his bar bottom. I have a new and very heavy oak paddle and I decide that this may be needed to drive home the lesson he needs to learn. Now he is a big guy but I soon had him yelling out in pain as my monster paddle struck home on his bare bottom.

Kodders has been to see the sexy escort Lola Marie but did not have a lot of luck with her. He now returns taking some implements he wants her to beat him with. Lola takes his money and is more than happy to oblige. She gives him a mixed session starting with the strap and then the paddle. She then uses an extra-large paddle to good effect before taking off all her clothes and sitting astride the lucky guy to carry on dishing out the punishment. Good hard punishment and very sexy activity from Lola.
Kodders thinks that he would like a sexy session with the very lovely Lola Marie and calls round to see her. He gets her to strip off and do some naughty things on the bed but then when she demands her money he has to tell her he is skint! She does not take this very well and decides that as he has used her for his pleasure she will now make use of him, of his bare bottom in particular. She is naked on the bed as she makes him lay over her knees for a good hard spanking with her hand and then with the back of her hair brush. This should teach him but will it?

When Tony had the nerve to call at my home on the off chance of getting a spanking I was really mad. He certainly got more than he bargained for. I started him off, despite his protests with a good hard paddling and then as soon as I had had my fun with that I produced my very favorite smoked dragon punishment cane. Now this is a terrible instrument of punishment and I can tell you that Tony was deep in regrets as I caned his bare bottom hard. I just had to teach him a lesson.

While I am away from home Paul decides to hire a young lady to come and spank him. She is new to the game and just does not know what she is doing and so when I discover them in full swing I am determined to teach them both a lesson. I get him over my knee and then thrash him with a thick wooden ruler, this really does hurt his tender bottom but worse is to come as I use the girls cane on him. This is one of my very hardest films so be warned for loads of hard spanking action.

Tony turned up at my house without a appointment to see me he said he needed a spanking that badly he just took the chance. I was not best pleased I can tell you and told him so. As he was there I decided I would deal with him and used a selection of my latest paddles on his bottom and the inside of his thighs. I made sure that he felt my anger for quite a while.


Jess is babysitting for me and I find my pathetic husband in the sitting room groping her. I am not amused when he tells me she is shagging my friends husband. I am going to give her what for! I get my paddle and lay into her bare bottom then I cane her. I then learn the truth, he tried to seduce Jess, OK time to thrash him and who better than a naked Jess. She has never caned a man before but she soon learns and lays into this pathetic specimen like she hates him..

Tony has returned home after a night in the pub, for that he has already been punished with my new heavy duty paddle. This has made quite an impression on his bottom but now I am going to birch him. He has to pick his own birch rods and bring them to me and then you will see just how hard I can punish a man who gets on the wrong side of me. A real heavy birching for Tony.

James has now had what I consider to be a real good warming up on his bare bottom. I want to get down to the serious punishment now. I first of all bend him over and use my heavy scottish taws on his bottom, he hates this and is almost crying. Then it's time that I caned him. He does not know how to behave and I have to keep lengthening his punishment. He gets it slow then really fast and hard on his bottom

James wife Amanda has written to me and asked that I keep James in line on a regular basis, she feels that she is unable to give him the degree of discipline that he needs, I have no such problem. She has suggested a rigorous routine and this should start with a hairbrush spanking. My hairbrush is extra large and extra heavy and is capable of inflicting quite a lot of pain. As James soon found out when I had him over my knee.

In this film I have Tony making a return visit and playing the part of my husband, my real one would never get out of hand, he wouldn't dare! I also have a very special paddle made for my good friend Kodders by The London Tanner. This is an extra thick and extra heavy paddle. It possibly hurts more than any paddle ever made and I really do get to work on Tony's bare bottom with it. Just watch this grown man squirm as I beat the hell out of his butt, he better not get out of hand again.


Paul came to see me about two years ago, he was in serious need of a cold caning, the most feared punishment in the CP repertoire and I did hand out then my very first cold caning on film. Since that day I have refined my caning technique and the punishment he got this time was far in excess of that which he received before. He took the full caning I had planned for him after being warned by me that this would be a very serious session.

When I trust someone I do not expect them to betray me but that is just what Kodders has done. I caught him peeping on me as I was dressing, if the truth be known I had spotted him right from the start but I did not tell him that. He has to be punished and I make him go over my knee naked so that he can feel my stockings and my bare flesh next to his skin as I beat him first with my slipper and then my heavy hairbrush. Was this punishment or a pleasure for him? I really don't know.

Our pervy landlord is paying us a return visit. I am going to show my best friend Satine Spark just how to administer a real caning. To be fair to him, he was not that much of a perv but I do like to take advantage of a man whenever the opportunity arises and really he just walked into it. He was after all watching as I spanked Satine so for that he does have to be punished and caned hard.

This is the last of the amateur films kindly sent to me by one of my members. It shows Lady Josephine in her school mistresses gown caning a lucky guy called Graham. Now she is not the most experienced Mistress in the world but I love this film because it was made for Graham and it fulfilled one of his dreams. Well who would not want to be bent over and caned by a big boobed school mistress, that must take a lot of you back in time! It is amateur but we have improved the quality a lot and it's great to watch because they enjoyed making it.

I catch Kodders going through my underwear draw, he has been warned about this before. I send him downstairs whilst I chose something to punish him with. I pick a small but quite heavy wooden spoon. First off I start by whacking him on the hands he picked up my underwear with, he does not like this at all. Once he is bent over I start on his bare bottom and really whack him hard. Most of this is seen from his POV so expect some different shots.


Sarah and Satine have been having a sexy spanking and paddling session in their bedroom. They do not realise that their landlord had let himself into the flat and has been perving. When he is discovered retribution is fast and painful. Sarah takes this opportunity to teach young Satine how to spank and hairbrush a grown mans bare bottom. She soon gets into it and between them they give this perv a real hard whacking.

Another film from my amateur film maker member. This time it shows a guy in the dungeon getting a severe paddling from our busty lady friend Josephine. Dressed in a revealing PVC corset and stockings with high boots she cuts a very domineering figure as she moves around our hapless victim administering a good solid session with her wooden paddle. Once again this is something different for my site and I do hope you like this, you certainly gave me a good response to my first amateur made film.

The story starts on spankingsarah.com, nurse Jess lets the porter, who is pretending to be a doctor, paddle her and strip her naked. He now has to pay the price. Sister Stern orders a naked Jess to join her in caning the hapless porter and boy does he get a real hard caning from the two of them. A well marked bottom is his reward for the deception. This is another Hand Made Film

I have something different again this week, one of my members, an amateur film maker shot a number of short films in his local dungeon some time ago, he did not know what to do with them and has offered them to me. I think they are fresh, erotic and very different and I would like to encourage others to send me their films. I will put a post in my blog so that you will get the idea of what I want and offer. This film features big busty lady she has a nice swishy leather flogger and she knows just how to use it on his back and bottom and it goes to make a real good film and different from anything else I have, let me know what you think. There is a link to my blog at the bottom of this page.
James has been sent to see me by his wife Amanda. I have already punished him but she is not satisfied that he has learnt his lesson. She wants me to cane him and to cane him very hard. I chose two very different canes from my vast selection, a thin whippy one which I start with and a very heavy short cane that has maximum impact. I can tell you by the time I had finished with him he was looking very sorry for himself.


Junior doctor Kodders has been punished once and Sister Stern is quite happy with that, nurse Portia Roux however has other ideas. She tells the unfortunate doctor that in her opinion he deserves a good hard session with the cane, she wants to put into practice the skills she has just learnt. Poor Kodders has to bend over and Nurse Portia sets about swishing his bare bottom with her thin whippy cane. A real good caning for Kodders.

There is trouble in the hospital, after punishing junior doctor Kodders they now find that the consultant is not carrying out his work correctly. Nurse Portia Rue is in need of some practice with her cane and this seems like a good opportunity for me to let her give this naughty man a nasty and very hard caning over my punishment stool. She soon warms to the task and I have to say she passes her caning exam with flying colors, mostly red!

Tony has been sent by his wife to be punished, he has the unfortunate habit of going out in her best underclothes and even after I had punished him with spankings and paddling he still persists in his liking for this form of dress. I have to take some very stern measures now. I make him bend over my spanking stool and then I take my heaviest cane to his bottom. You will see the results of this very hard caning, Tony can certainly feel them but will this change his desires?

James has already been punished by me for his bad driving, now his wife has sent him back to me to see if I can get him to see that his lack of help around the house is something he should be ashamed of. He works during the day but so does she and she feels that he should do more. I agree and therefore decide that he will be very severely punished. My new leather strap seems perfect and this I use on his bare bottom but there is more to come. I rarely use my hardwood paddle but today it is called for and James is going to get it. Hard!

It seems that Junior doctor Kodders can do nothing right. Sister Stern and nurse Portia have decided that he needs to be taught something of a lesson. A double session of paddling on the bare bottom is, he is informed the usual way that nurses deal with cheeky new doctors. He has to bend over and submit to this humiliating punishment from two very happy nurses.

Nathan has now felt just how hard I can deliver a well deserved punishment and so when I tell him it's time to move onto the cane he is not quite so happy. Maybe he did not think i would go through with it, big mistake! He has to bend over for a real hard swishing with a couple of my canes. I think it may be a while before he plays silly games again with me.


Everyone has 50 shades of something so here is my far more believable contribution. Nathan, playing my husband tells me he is going to play golf. The truth is far more bizarre and the result is that Nathan is in for a rather long punishment session. You will see the result of my hard hand and then the application of a couple of my heavier paddles. He ended this part of the film with a very red bottom. Please excuse the smiles on our faces, we had so much fun making this film!

Kodders has already been punished by me for stealing my charity cookies but you know me, I love to hand out really painful and different punishments. I have a beautiful wooden clothes brush and I decided that would be just the thing to teach Mr Kodders a lesson. To say he did not like it is to put it mildly, he positively hated the punishment but he had no choice but to take his pain.


James is a mild mannered, quiet man until he gets behind the wheel of his car, he then becomes a danger to himself and those with him. So annoyed with him was his wife that she has sent him to me to see if I can modify his behavior. I know just what is needed, a sharp and painful shock. A hand spanking over my knee followed by a session with my heavy wooden hairbrush.

Keith has a problem with his gambling habit, he spends more on this vice than he can afford and has even started steeling money. He needs some serious therapy and having tried all the usual groups and remedies he turned to me to sort this problem out. I have my own very effective methods and to start his treatment I paddled his bare bottom with my strongest leather paddle.


Once again it's that time of year, CHRISTMAS and from spanking towers we present to you my Christmas video. This is a great little story involving; Kodders, Mr. Christmas, Portia Roux, Me and rather a lot of Santa's little helpers. Enjoy the film and we wish you A Happy Christmas, Feliz Navidad y feliz aŮo nuevo!

Tony has spent the morning spanking and paddling Grace for me for one of my films. Grace now thinks it only right that she should take some revenge, not usually a dominant lady she did intend to make an exception for tony. She used her hand, the paddle and the cane like an expert, ask Tony, it really hurt him.


Parker has reported to the governess and he knows he must be birched. No mercy will be shown and he expects to receive none. Naked he has to lay over the punishment stool as I prepare the birches, freshly gathered that morning by Parker. He waits for that first terrible slash of this natural instrument of justice and punishment

Tony is to have the final part of his punishment as requested by his wife for wanking into her knickers. He is to be given a severe prolonged and very hard caning by me.That he does not want his deserved punishment is obvious but he knows full well that I will give it to him and that when I cane a naughty mans bottom he is guaranteed to know all about it. He Did!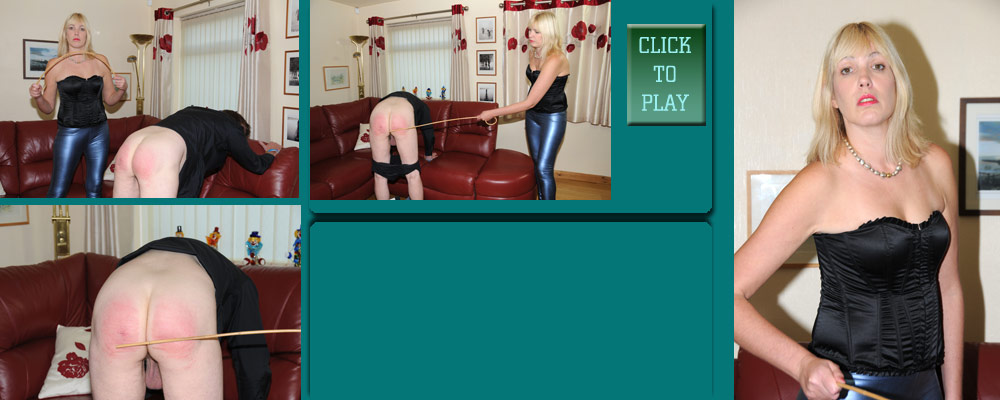 OFFICE PEST CANED
I really enjoyed paddling Paul's bare bottom, he deserved it for looking up the girls skirts as they worked in the office but now I really was going to have my fun with him. I summoned him to my home and told him that if he wanted to keep his job he was to let me beat him whenever I fancied. He did not like that idea but I can be very persuasive and soon had him bending over as I swished his bottom with my favorite cane. Oh what fun.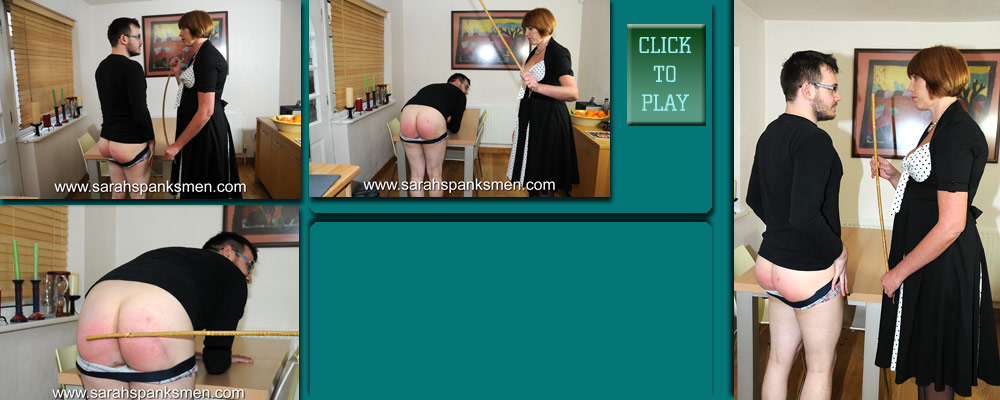 NAUGHTY CHOIR BOY CANED
This is the last part of my punishment of a very naughty choir boy, he stole from the church and I have already punished him once in an earlier film. I unlike the vicar do not believe in forgiveness, not without a lot of pain first and so Michael is going to feel what is like to lay on the kitchen table and take a long and careful caning from me. It's not nice I can tell you, so can Michael..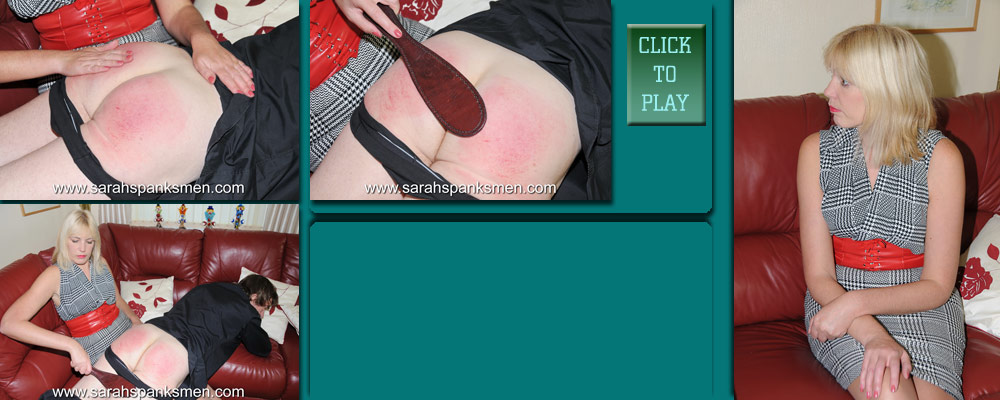 THE OFFICE PEST
Paul has been invited to my home to discuss his sexist and misogynistic behavior. He thinks it is quite all right to look up girls skirts and down the front of their blouses. The girls in my office are fed up with this and so I have to take him in hand. I explain to him the nature of his bad behavior, he will not see that it is wrong and so I have to teach him a lesson in the most painful way. Over my knee he feels the stinging slaps of my hand.
REVENGE IS SWEET
Steve has just had cause to paddle his secretary, she discovered his collection of paddles. Now she wants to turn the table on him and not only demands a pay rise but tells him she is going to paddle his bare bottom just like he did hers. Steve has to agree, well this is just what he was hoping for anyway.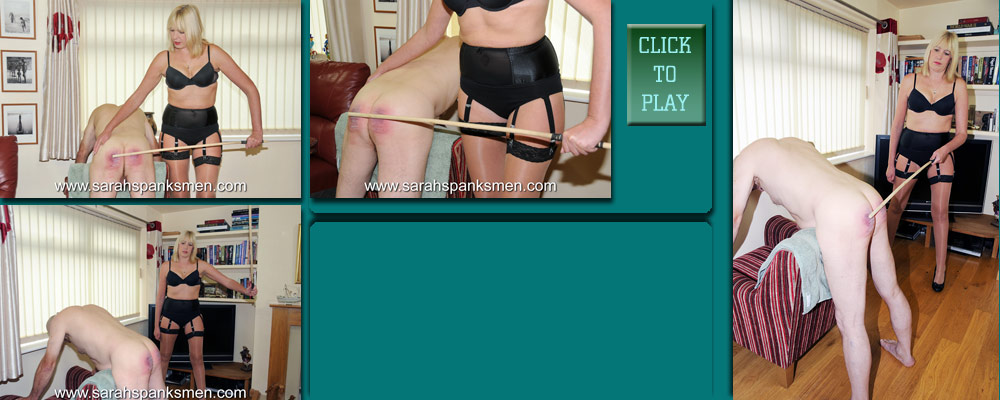 PARKERS BIRTHDAY CANING
Parker always has a caning on his birthday and this year for the first time he came to see me. What he required was quite simple, a cold caning giving him the number of strokes to match his age. No problems. He brought along his own cane, a wicked full weight Singapore monster of a cane that I knew would hurt dreadfully but that's what he wanted and that is exactly what he received.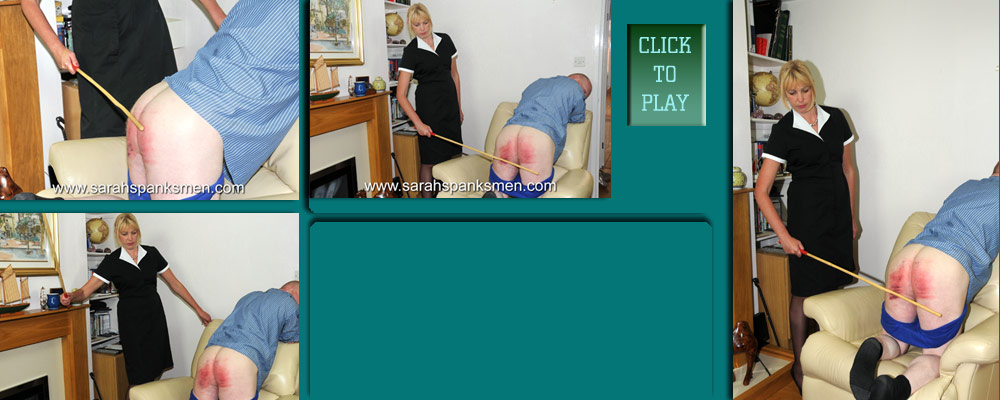 HE ASKED FOR THE CANE
Let me tell you, it's a pretty brave man who comes back to me for a real hard caning, presenting himself at my door and asking for the cane. It does not happen very often but Steve was just such a guy. Now he is a real tough guy, just the sort a lady wants to look after her when she is in a rough tough pub, not that I frequent such places but you get the idea. Nothing to say about this film. It is good, hard caning given as requested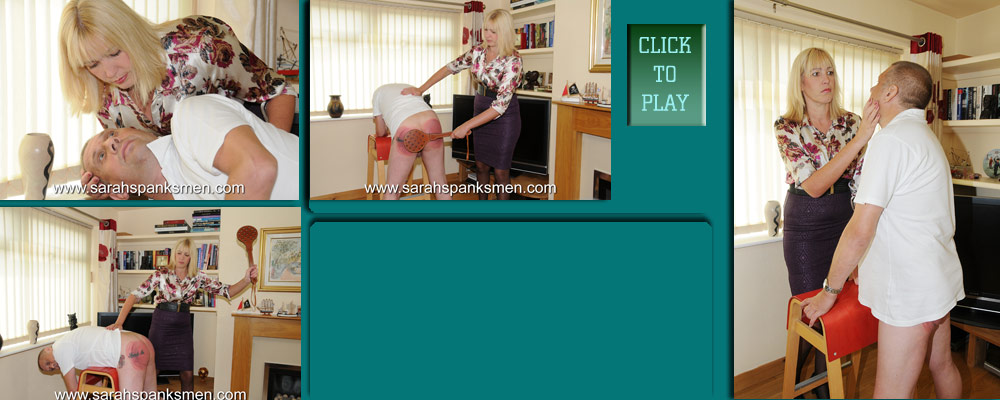 PADDLED FOR WEARING WIFE'S UNDIES
I have already spanked Tony at the request of his wife, he was caught wanking in her undies. I did not think he was showing sufficient contrition and have decided to extend his punishment. I have a very heavy paddle and this was just perfect for his bottom, he did not agree with me but that did not stop me paddling him and hard.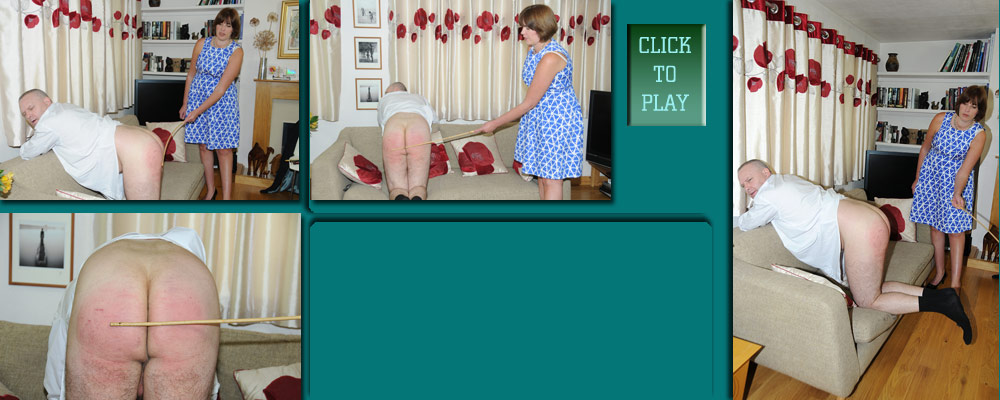 BAD BANKER CANED
Fred Badwin the countries hate figure banker thought he had got away from me with just a spanking and a paddling but I had other ideas. He refused to give back the massive bonus he took from the bank and so I had the idea to give him another sort of bonus, a real good caning. I had not one but three of my favorite canes and after bending him over I gave him a whacking he will remember for a long time.
CANED FOR CHEATING ON MY SISTER
Just when he thought it was over the pain started again. I was not going to let this cheater get away with just a good paddling however hard it may have been and despite his tears. Out came my canes, I started with a thin whippy one but then worked up to a heavy full size dragon cane and boy did I give it to him. I hope he feels this for days to come.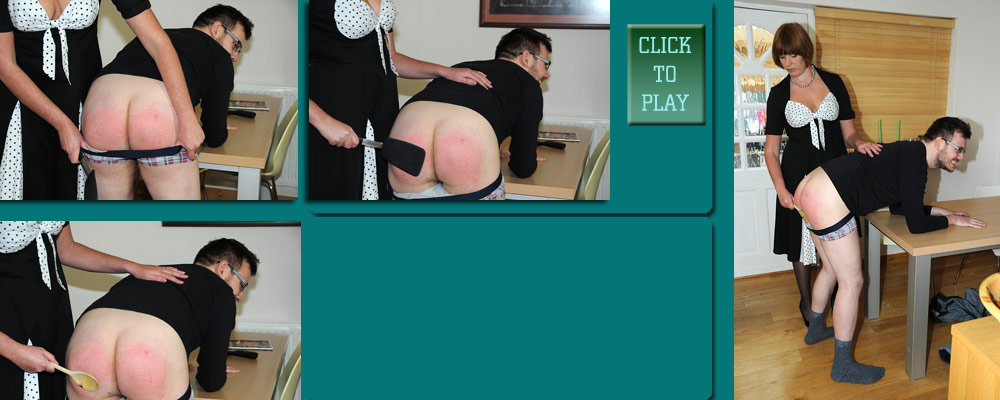 NAUGHTY CHOIR BOY PADDLED
When money goes missing from the Sunday collection plate the priest has to investigate. He discovers that Michael one of his choir boys has been steeling. He has to confront the naughty boy in front of his guardian. There is only one punishment that will fit this crime and that is a severe beating with a leather paddle and for added effect a nasty wooden spoon. This is dished out to him whilst bent over the kitchen table.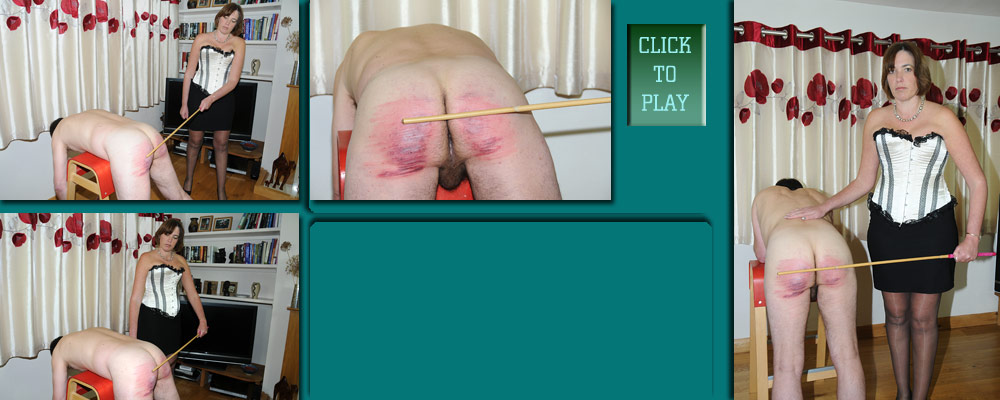 THE COLD CANING OF DAVID
This was a most unusual request. David came to see me and what he required was simple and very straight forward. He wanted to be cold caned. That means that he wanted me to cane his bare bottom as hard as I could and without any warm up spanking, as is usually the case. I have to admit this was a first for me but it was quite exciting knowing that I was giving David exactly what he wanted in the way he wanted it.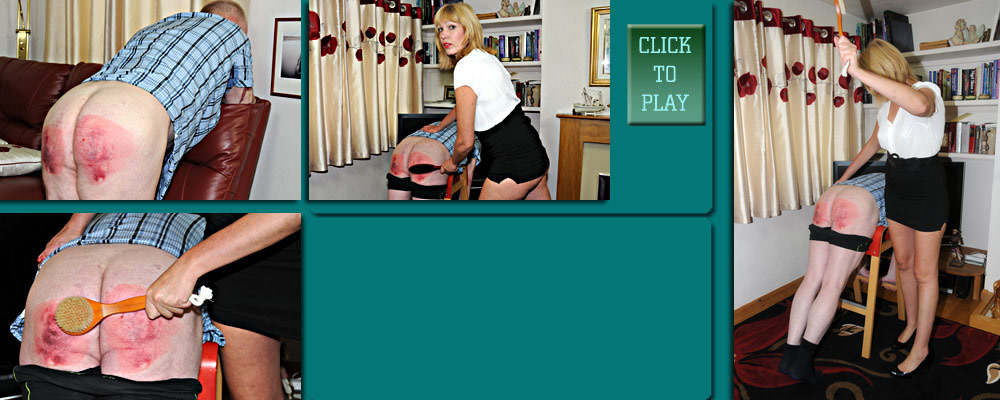 YOU CHEATED ON MY SISTER
It does not take a lot to annoy me and for sure one thing that is certain to make me boil with rage is someone who upsets my sister. This pathetic specimen cheated on my sister, yes he went out with some cheap bitch from his works and fucked her. She asked me to deal with the situation. I was only too pleased to thrash this cheater, I beat his bottom so hard with my wooden brush he started to cry but that just ensures he gets a lot more.
TOM'S FIRST CANING
Tom wanted time to get over his spanking and that's no problem, it was his first and it was very hard. I asked him if that was all he wanted and he said he wanted to go further, to see just how far he could go. I was amazed and then I fetched a selection of canes for him to chose from, this was going to be a real test for him. He bent over and I really did cane him, building up slowly to some very hard strokes.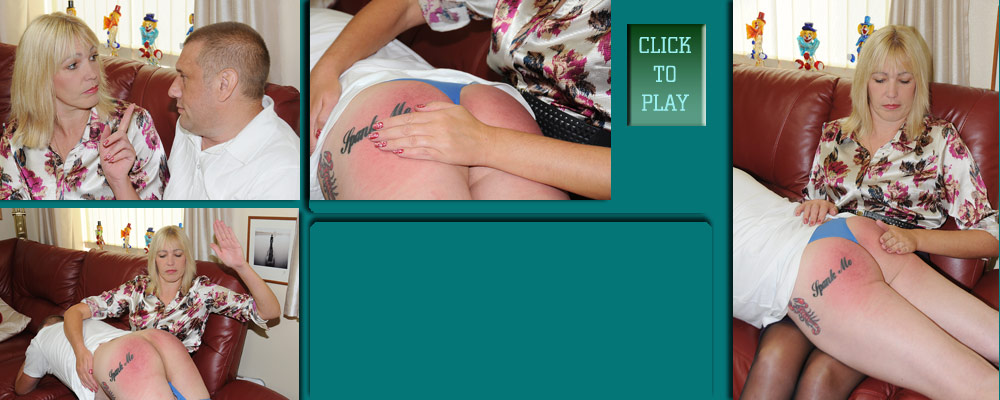 WANKED IN WIFES UNDIES
Tony is in real trouble, his wife has caught him on two occasions going through her undies drawer and not only putting her knickers on but she says he was wanking into them. Now I do not see a lot wrong with that but she did not like it and that's why she sent him to me for extensive corrective punishment. I decided this pathetic wimp was going to get the full treatment and so I start off with a real Sarah style hard spanking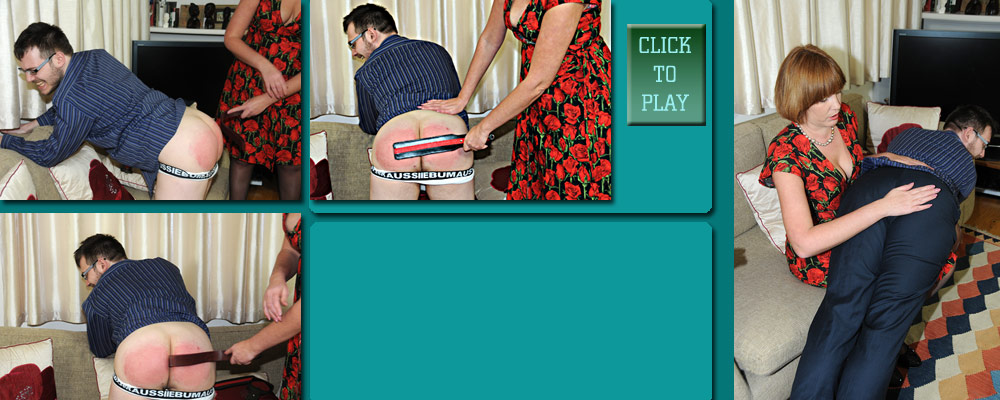 THE WAGES OF DECEPTION
Michael has been very naughty and trying to deceive Sarah, who is also his land lady. He is behind with the payments for his rent and has not told Sarah that he has in fact lost his job. There is only one punishment for this sort of behavior and that is a severe and prolonged session with a number of very nasty straps and paddles that are all designed to bring a great deal of pain to this naughty boys bare bottom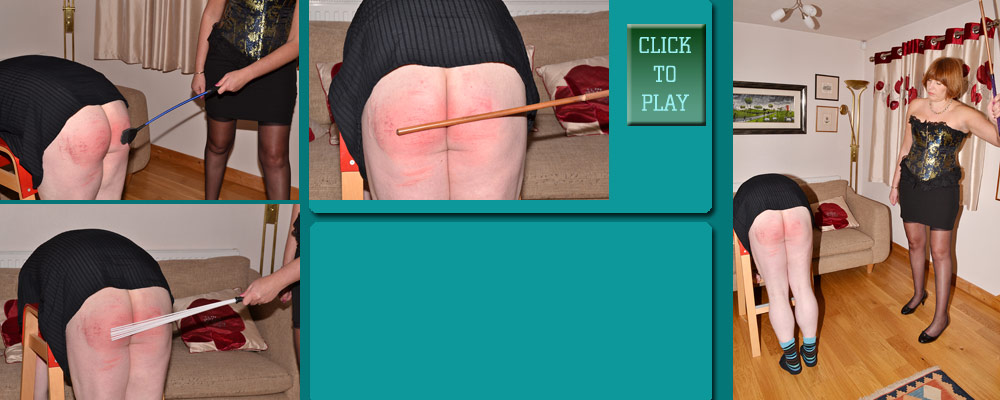 CANED FOR PLAYING AWAY
DI Morgan thought his punishment was over but he is mistaken. Miss Bright has more weapons in her toy bag, a nasty crop with a leather end, a multi stranded delrin birch and a number of different weights and types of canes. He is about to feel the full strength of all these on his bare bottom and the punishment continues till he can take no more of the pain this strict lady is dishing out to him
HIS FIRST SPANKING
Tom was very fearful when he first contacted me and then when he met me he just went to pieces. I put him at ease and he said that the one thing he had wanted all his life was to be spanked and punished by a dominant woman. He had chosen to come to me even though I had explained to him that I would not go easy on him and that when he was over my knee it would be for real. Well, take a look at what happened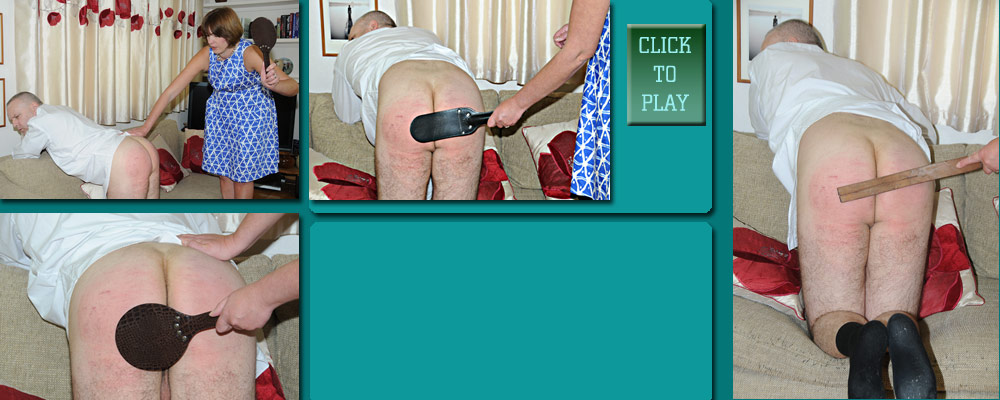 THE BAD BANKER PART 2
Fred Badwin the world's worst banker is now due the second part of his punishment for bringing the world to the edge of financial ruin. Thankfully Sarah has been chosen to point out in the most painful way possible the error of his ways and to make him understand that he has to repay his massive bonus. She does this with a variety of paddles and a nasty Scottish taws used on his bare bottom.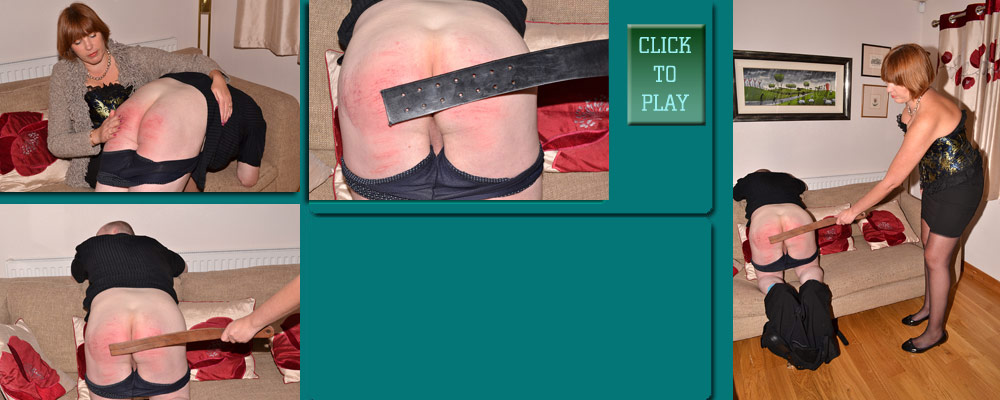 HE CHEATED ON HIS WIFE
DI Morgan has been sent to visit with Sarah after she discovered he had been playing away from home, and it was not rugby! A stern lecture on the stupidity of what he has done is the start of the most painful day in this idiots life. He is going to get a real whacking and he will be whacked facing the camera so his wife will see his pain and hear his apology. A real long and hard leathering is just for starters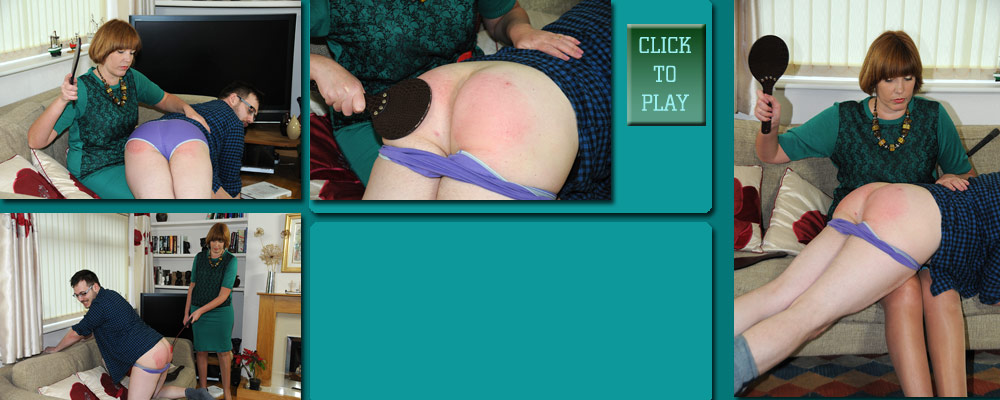 THE PADDLE FOR MICHAEL DARLING
Sarah has been watching the film that Michael was caught watching. It is obvious from that film that he has an interest in the spanking of young ladies and so he needs to be taught that it is not only young ladies who get punished. Sarah has made a note of some of the implements used in the punishment of the young lady and now intends to introduce some of these to Michael's bare bottom. She has a collection of paddles and straps and a nasty looking riding crop, all of these are to be used on his bare bottom, now.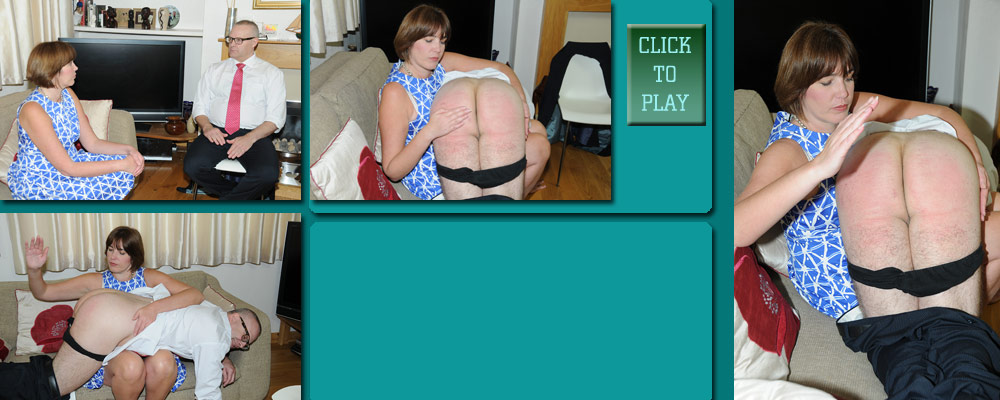 THE BAD BANKER
Fred Badwin is a banker, in fact he is the original bad banker and the problem is he knows it. So what is he to do. He has retired with all his ill gotten gains safely in someone else's bank and he has time on his hands to enjoy the good life. Girls, parties wine and plenty of sex. The problem is, he has a conscience and it is troubling him. He feels the need to make a statement of contrition, to say sorry to appease his conscience. He turns to me to help him out and I know just what to do with this bad banker!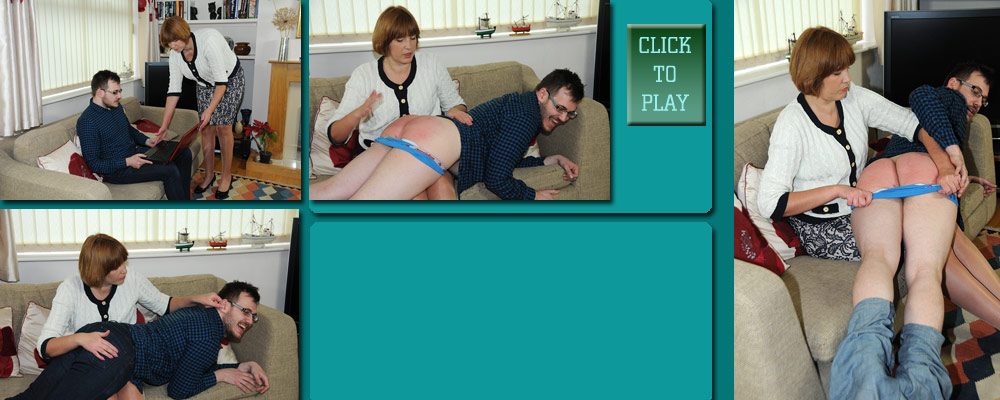 MICHAEL SPANKED FOR WATCHING PORN
Young Michael is really in trouble when he is discovered watching porno on his computer by me, strict Sarah. I do not agree with that sort of thing and I certainly don't want him doing it in my house. I have no trouble in sorting him out. Straight over my knee and a good hard spanking over his denim jeans before I make him take them down and bare his bottom for a blistering spanking on his tender young bottom.